Nyanta is from the race of felinoids. He was the Chief of the Debauchery Tea Party before it disbanded. He belongs to the main class of swashbuckler and his subclass is known as chef. This has enabled him to prepare pleasant delicacies which invariably save them from the tasteless food available in Elder Tale.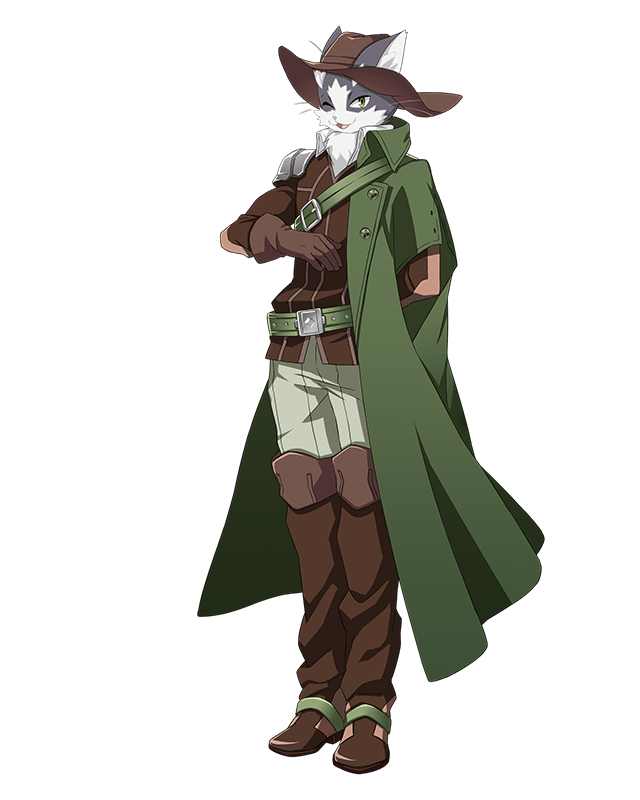 He is a fashion-savvy personality who is always mindful of his appearance as well as looks. In-game, he is tall and slim with purple and white hair color. You will always identify him in a green coat over a white shirt. With his grey breeches, you are sure to find him wearing brown leather gloves and a red scarf.
He married a college student some years before the Catastrophe. Comparatively, Nyanta is older than virtually all the other characters as he is said to be 40years. Before the Catastrophe, Nyanta was a member of The Cat Food Guild.
Nyanta Before the Catastrophe
Nyanta had married a lady he met in Tokyo even though he was still in college. This was before he even started playing Elder Tale. The couple lived happily together until tragedy struck. Nyanta's wife fell sick and sadly, she died as a result thereof. Nyanta never fully recovered from his wife's death. Soon after his wife's death, he started playing the Elder Tale probably to forget the sad events of his life.
His opinion was among the most highly esteemed within the Tea Party. This is partly because of his status as the group's eldest member. Nyanta is calm both in words and actions which indeed earned him the trust of the entire party. After the Tea Party had been disbanded, he lost interest momentarily. His playtime became irregular and inconsistent. This even made his party not to send him an invitation to join the West Wind Brigade.
Nyanta After the Catastrophe
While Nyanta was logged on to the elder tale, he too was caught up by the Catastrophe. He tagged with Shiroe and the others to form the Debauchery Tea Party. On their return to Akiba, Nyanta disclosed the secret to Real Food Preparation to the group.
Nyanta is a true gentleman, you can see this from his polite criticism of other players that go wrong. He is generally kind to all and does not tolerate any form of ill-treatment. He is loyal and reliable to his friends and is always ready to bring his fighting skills to their aid.
As a result, Nyanta was chosen as one of the teachers at the Summer Training Camp. Here, he had the responsibility of teaching young players how to improve and perfect their battle skills. While here, he also served as the head cook.
Read also: the-best-7-anime-like-hundred
Nyanta's Affiliations
Nyanta is a very sociable character. He does not have problems making new friends or joining new teams. You cannot underestimate his leadership capabilities. He was the leader of the Debauchery tea party before it disbanded. He is also a very patient and calm teacher. Below are his past and present affiliations;
Log Horizon
Shibuya Raid Team
Debauchery Tea Party
Cat Food
Sample Builds
The Swashbuckler has basically 4 builds, and this is based on the selected weapon.
The builds are as follows:
Dual Blade (dual-wielders)
You can carry two lightweight weapons in order to perform an attack. With this tool, you can carry out successive attacks to overpower your opponent.  With high speed, Nyanta can effectively carry and use dual rapier to deal deadly hits on opponents.
This is for the single blade user. You can inflict great damage from this one-handed. It is common and a favorite among those who don't go for raids frequently. While some people prefer the one-handed blade others prefer the dual-blade. This is, however, a matter of choice, skills, and ability
Gladiator (sword-and-buckler)
This is a build that consists of a Sword and Buckler. It is another weapon available to Swashbucklers. You can select and use it to achieve your desired effects.
Juggler (throwing weapons)
This build involves throwing weapons. They are very rare builds and this is primarily as a result of the cost of the ammunition. However, if you acquire this long-range tool, the benefits are immense. You can throw weapons from a distance thereby delivering severe hits to targets.
Read About More Characters and about Log Horizon Season 3: Log Horizon Season 3 Releasing date and Everything you should Know [September 2020 Update]