Bypassing recycle bin windows10 when you trash unwanted files deletes the said file permanently. These are some simple ways by which you can bypassing recycle bin windows10
WHAT IS A RECYCLE BIN
A recycle bin is a special file directory that allows the user access to delete files temporarily before they are trashed permanently. This special file directory is known as recycle bin in Microsoft windows. Other operating systems may have other designations. It is a file directory that stores deleted files temporally before permanently disposing of it.
However, you may want to delete by bypassing recycle bin windows 10. This circumstance may arise when you wish to completely delete a file without having it moved to recycle bin. Under normal circumstances, a deleted file goes directly to the recycle bin temporarily before it is deleted permanently. The reason is this, if you have deleted a file in haste or by mistake, you can actually retrieve it. But sometimes, you may wish to delete bypassing recycle bin windows 10.
REASONS FOR BYPASSING THE RECYCLE BIN IN WINDOWS 10:
There are times when you accidentally delete a file and you want that file back. You can actually undo and restore it from the recycle bin. Prior to the emergence of Windows 10, the earlier versions of operating system displayed and sought confirmation before dispatching a file to recycle bin. However, Windows 10, has eliminated this confirmation feature. Circumstances may arise whereby you want to delete a file or files permanently. Reasons for bypassing recycle bin windows10 when deleting files include:
Security; when using public computers, you may not want your highly sensitive files saved somewhere before actual deletion. Also, with personal computers, you may not want deleted sensitive files neatly saved in the recycle bin for weeks or more before permanent deletion.
Privacy; this applies to both personal or public computers. Privacy concerns may require you to delete a file by bypassing recycle bin in window 10. By bypassing the recycle bin, you delete the file permanently.
Personal indulgence; people may out of habit, preference or choice elect to permanently delete files from their computer by bypassing the recycle bin.
HOW TO DELETE FILES BY BYPASSING THE RECYCLE BIN IN WINDOWS 10:
These are 2 simple and possible ways to delete files by bypassing the recycle bin in windows 10.
Shift+Delete: this applies only if you want to delete files in Windows 10 by bypassing the recycle bin. While attempting to delete a file in windows 10, do not make use of the delete option from the right-click menu or from the toolbar. Rather, select the file you intend to delete then press Shift+Del . Windows will demand confirmation that you want to permanently delete the files. Note that deleting files through this method will bypass the recycle bin.
By Permanently Modifying the Recycle Bin Settings: with Windows 10, you can modify your delete preferences in the recycle bin settings. By adopting this, you can chose to permanently delete files or temporally through the recycle bin. You can achieve this task by right-clicking on the Recycle Bin icon that Windows displays on your Windows desktop and choosing Properties. In the Recycle Bin properties window, select the option – Don't move files to the Recycle Bin. Remove files immediately when deleted. Subsequently, Windows will bypass the Recycle Bin when deleting files from Windows File Explorer.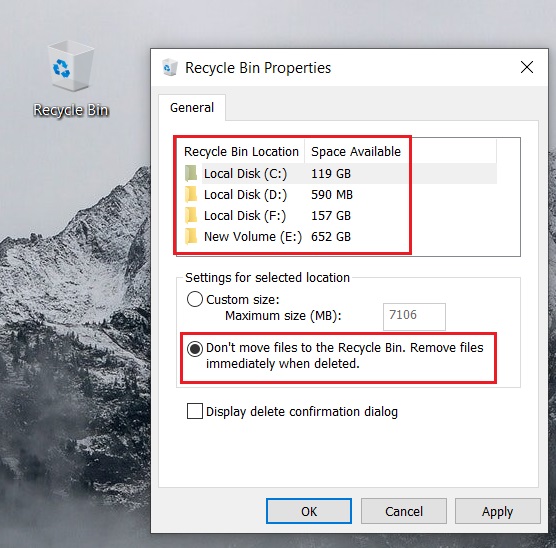 MORE WAYS OF DELETING FILES BY BYPASSING THE RECYCLE BIN IN WINDOWS 10:
Below are  more ways you can delete items by bypassing recycle bin windows10
CMD shell (Command Prompt): You can also use the erase or the del command to remove files by using the command prompt. When you delete files by using the command prompt, Windows does not send the deleted item to recycle bin. You can achieve the CMD shell command by clicking on Start button, then typing 'cmd.exe' and then punching the Enter key. After this, press the del command to delete unwanted files permanently
Using PowerShell: In 2006, Microsoft introduced PowerShell. This is a powerful feature that can perform a lot of functions in your Windows PC including deleting files. To delete through this process, you are to press Win+X key and select PowerShell from the menu that appears. Consequently, when you select the command, Remove-Item, the deleted item will be erased permanently. Windows does not demand confirmation when trashing unwanted items. when you make use of this process, when trashing, deleted items bypass the recycle bin.
see also: windows-10x-may-not-support-legacy-win-32-apps
3. Using FAR Manager: this is a file manager that makes use of an old word interface from the DOS days but does offer very powerful features. To make use of this feature, you would need to access the FAR Manager. In FAR Manager, you can select a file and then press Shift+Del key combination to delete files without sending them to the Recycle Bin first.
Video Tutorial: