According to an NFL official, the Washington Football Team released Adrian Peterson this Friday.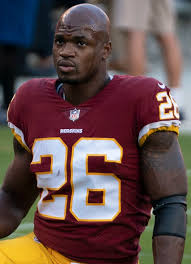 Tom Pelissero and Mike Garafolo of the NFL Network announced that the running back is being released by the Washington Football team. The team later upheld the same.
Dropping of their running back, Peterson, comes after the release of Derrius Guice from Washington last month after having a domestic abuse charge.
Peterson's main challenge would be finding another job that fits with his skill set. The future Hall of Famer has proved that there is still some fuel left. He will have to wait before injuries pile up to get a chance to continue his career and keep alive the hopes of catching Emmitt Smith for the all-time rushing record one day.
Also watch :
Peterson had landed in Washington after 10 years in Minnesota and one year split between New Orleans and Arizona; and soon became the lead back.
He has also appeared for Washington in all but one game over the past two seasons. The 13-year veteran has recorded 14,216 career rushing yards, fifth on the rushing list of all time. The 35-year-old takes second spot on the New York Jets' powerful rushing list behind Frank Gore.
Last season, following a 1,000-yard effort in 2018, Peterson has carried the ball 211 times for 898 yards and five touchdowns.
Peterson spent his first 10 seasons with the Minnesota Vikings, where he made seven Pro Bowls and won four All-Pro first-team selections. Reports from the camp in Washington on Thursday said Peterson was working with the training staff on a side field during practice.
Also read :