Introduction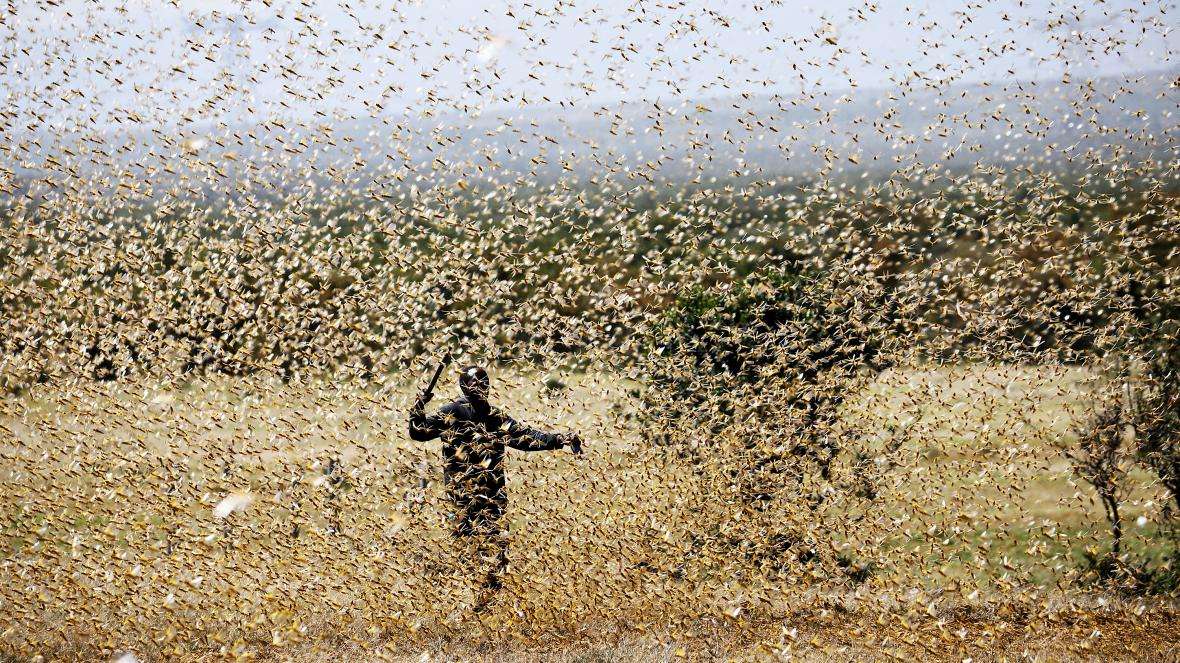 Locust swarms are infamous for voraciously feeding on agricultural crops, trees, and other plants. In fact, this feeding can devastate crops and grasses grown for people and livestock. This can cause famine and starvation in communities that depend on their crops for survival. Hence, According to the Food and Agriculture Organization, the destructive power of a typical locust swarm can be enormous.
Where do Locusts lay eggs?
As their name suggests, desert locusts normally live and breed in semi-arid/desert regions. For laying eggs, they require bare ground, which is rarely found in areas with dense vegetation. So, they are more likely to breed in Rajasthan than in the Indo-Gangetic plains or Godavari and Cauvery delta.
How can Locusts wreak havoc?
The size of these swarms can vary – from less than one square kilometre to several hundred square kilometres. One square kilometre swarm contains about 40 million locusts. They can eat as much food as 35,000 people assuming that each individual consumes 2.3 kg of food per day.
Locusts in the Bible Chronicles
Interestingly, the locust plague finds its mention in the bible as well. In the Bible, God afflicts ancient Egyptians with ten plagues for their sins. One of them was the plague of locusts.
The tale of Moses and the pharaoh
In the Biblical tale, Moses, a prophet and leader of the Hebrews whom the Jewish people consider to be their ancestors, warns the Pharaoh (ruler) of Egypt that his kingdom would be ravaged by plagues if he did not free the Israelites and allow them to go back to Canaan. Moses warned the Pharaoh that God will send so many locusts that they will "cover each and every tree of the land and eat all that is there to be eaten".
 Plagues of Egypt
As the Passover story tells it, after Pharaoh refuses Moses' entreaties to let the enslaved Israelites go free. God sends a series of ten plagues to pressure the Egyptian ruler. Each time, Pharaoh promises to free the Israelites, but reverses his decision when the plague is lifted — until the last one.
The plagues are: water turning to blood, frogs, lice, flies, livestock pestilence, boils, hail, locusts, darkness and the killing of firstborn children. But it's just a story, right? Well, what if it's more than that.
India's strategy in combating the Locust attack
Organophosphate chemicals:
In addition, Most countries combating locust swarms are mainly relying on organophosphate chemicals. However, At present the primary method of controlling Desert Locust swarms and hopper bands is with mainly organophosphate chemicals. Those are applied in small concentrated doses (referred to as ultra low volume (ULV) formulation) by vehicle-mounted and aerial sprayers and to a lesser extent by knapsack and hand-held sprayers.t
Drones and more:
India has become the first country to use drones for locust control. Thus, Total amount sanctioned for deployment of drones is 1.2 crore for a period of 30 days. It is learnt that the ministry had engaged five companies to provide services of drones. Until now 12 drones have been deployed for locust control in Jaisalmer, Barmer, Jodhpur, Bikaner and Nagpur.  Use of drones has added one additional dimension as it is effective for tall trees and inaccessible areas.
Bell 206-B3 helicopter
Now the government will deploy helicopters for aerial spraying of pesticides to stop the spread of the swarms. Above all, According to sources, Union Agriculture Minister Narendra Singh Tomar, on Tuesday flagged off a Bell helicopter with pesticide spraying equipment from a helipad.
Purpose
The aim was to effectively control crop threatening locusts in the worst affected areas in Rajasthan. After launching helicopter service, Tomar said the helicopter will fly for Air Force Station at Uttarlai, Barmer, where it will be stationed initially. From there it will be deployed for locust control in desert areas of Barmer, Jaisalmer, Bikaner, Jodhpur and Nagaur.
Specifications
The helicopter firm, M/s. Malhotra Helicopters, has been finalized for conduct of single pilot operation with Bell 206-B3 helicopter. Further, The helicopter has a pesticide carrying capacity of 250 liters in one trip and which can cover 25-50-hectare area in one flight. The total contract value is around 1.25 crore for a minimum guarantee of 100 hours in 60 days. There is also an incentive clause of 10 lakh INR.
Some Interesting facts about Locusts
    Life Cycle of Locust
A desert locust lives a total of about three to five months. This is variable and depends mostly on weather and ecological conditions.
The life cycle of a desert locust comprises of three stages – egg, hopper, and adult. Eggs hatches in about two weeks (the range is 10-65 days), hoppers develop in five to six stages over a period of about 30-40 days. Adults mature in about three weeks to nine months but more frequently from two to four months.
     Female Locust 
A female desert locust lays eggs in an egg pod primarily in sandy soils at a depth of 10-15 centimeters below the surface. A solitary female lays about 95-158 eggs whereas a gregarious female lays usually lays less than 80 eggs in an egg pod.
Females can lay at least three times in their lifetime. Further, That is usually at intervals of about 6-11 days. Up to 1,000 egg pods have been found in one square meter.
     Physics of Locust Flight
Desert locusts usually fly with the wind at a speed of about 16-19 km/h depending on the wind. Locust swarms can travel about 5-130 kilometers or more in a day.
They can stay in the air for long periods of time. Example: (a) Locusts regularly cross the Red Sea, a distance of 300 kilometers. (b) Travelled from North-West Africa to the British Isles in 1954 (c) Travelled from West Africa to the Caribbean, a distance of 5000 km in about 10 days in 1988.
A solitary desert locust usually flies at night whereas gregarious adults (swarms) fly during the day.
Locust swarms can vary from less than one square kilometer to several hundred square kilometers. There can be at least 40 million and sometimes as many as 80 million locust adults in each square kilometer of swarm.
    Locust v/s Humans
Locusts do not attack people or animals. There is no evidence that suggests that locusts carry diseases that could harm humans.
    Plague or Plenty?
People in several countries collect locusts using large nets and by other means. Locusts are usually stir-fried, roasted or boiled and eaten immediately or dried and eaten later.
Locusts are rich in protein. During periods of increased locust activity, piles of dead locusts can be found in the market places of many locust affected countries.
Conclusion
The U.N. Food and Agriculture Organization, has warned of more such attacks along both sides of the India-Pakistan border. But for a country which is already battling a pandemic, this is yet another challenge.
Eventually, we don't want to be in the same boat as the ancient Egyptians from Moses' tale, right? Fortunately, we still have time to make amends. If we desist from the known ills, may be, God, Nature or whoever is bearing down on us might give us a second chance. But the clock is ticking and we need to hurry.
Recipe for Honey and Miso Fried Locust
Locusts Simmered in Soy Sauce and Mirin