11 MOVIES LIKE 365 Dni: 365 Dni is a romantic drama movie. It is a polish movie based on a novel titles " 365 Dni " by Blanka Lipinska.Barbara Bialowas and Tomasz Mandes directed the movie. Furthermore, Maciej Kawulski, Ewa Lewandowska and Tomasz Mandes are the producers of the film. The film was released on February 7, 2020 in Poland. While it is available on Netflix since June 7, 2020. However, It received attention worldwide along with criticism for sexual violence.
The story follows as when Sicilian familys' member Massimo meets a Sales Director Laura. Subsequently, Laura's life is turned upside down when she is kidnapped by Massimo. While, she is trying to preserve her relationship, 365 days were given to her in order to love him.
Trailers give an insight about the content present in the movie .
11 suggestions for alternatives or movies like 365 dni from our side :
1.FIFTY SHADES OF GREY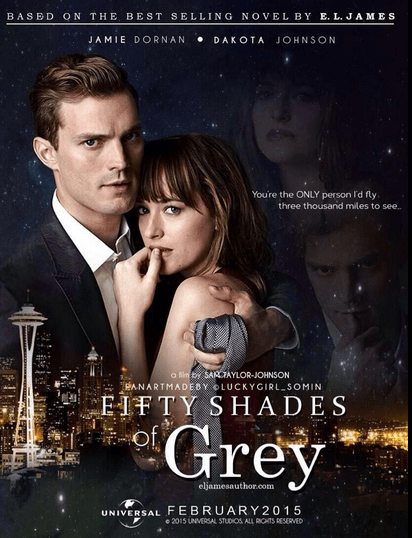 Again a romantic drama movie like 365 dni with the director being Sam Taylor Johnson. It was released on February 20, 2015. Its two main characters are Anastasia Steele and Christian Grey. The story follows when Anastasia in place of her roommate goes to interview Christian, who is a prominent businessman. Little is she aware about what her path would take her to Christian is a powerful and a rich person. He finds himself on meeting Ana to be drawn towards her and vice versa is felt by her. Ana gets into an affair with Christian, even being inexperienced. Along her journey with Christian she gets to know his sexual tendencies.
2.AFTER
American romantic movie released on 12th April 2019. Jenny Gage is the director of movie. Mark Canton, Courtney Solomon, Aron Levitz, Anna Todd, Meadow Williams, Jennifer Gibgot and Dennis Pelino are the producers. It is based on Anna Todd's book titled "After". The story follows about two high school sweethearts Tessa Young and Hardin Scott.Tessa is a person dedicated towards studies. She meets Hardin on entering college for first semester. Hardin is a difificult person to live with. He makes her question about what she knew about herself.
https://youtu.be/95BKJA2QhCc
You are reading # 11 movies like 365 dni, Press like if you enjoy this Article.
3.INDISCRETION
It is a thriller American film that released on 23rd July, 2016. John Stewart Muller being the Director and along with him Laura Boersma, Timothy Rhys, Thomas Beach and Gabe Land being the producers. This romantic thriller's story follows as a politician's wife's past affair with a young artist comes back to haunt her life. The film stars Mira Sorvino ( politician's wife ).
4.LOVE
A drama art movie with Gaspar Noe being the Director of the film . The movie was released on July 15, 2015. It is now available in French and English language. IMDb has rated it 6.1/10 in its ratings. The film is about an American named Murphy living in Paris. He happens to enter into a relationship with an unstable Electra. Later, their neighbor is invited in order to keep the temperatures high.
5.ADDICTED
It is a 2014 romantic drama film . It is based on the Best selling novel titled "Addicted " authored by Zane. Bille Woodruff is the director and Paul Hall is the producer. The release date of movie was October 10, 2014. The story is about Zoe Reynard , a businesswoman who is living a charmed life. Boris Kodjol plays the role of Zoe's husband and she has 2 children. Although, Zoe's life looks thrilling but deep inside she is a nymphomaniac. She might put her career, family and life on stake for her thirst for sexual gratification.
You are reading # 11 movies like 365 dni. If you have any suggestion or you want a similar article on any other movie or Show, you can tell us in comments.
6.NEWNESS
Again a romantic drama film released on 9th November 2017. Drake Doremus is the director and Scott Free productions has produced it. The plot is about how 2 youngsters begin a relationship after a hook-up. The hook –up takes place due to social media culture. As a result, Their relationship crosses all physical and emotional boundaries.
7.NYMPHOMANIAC VOLUME I AND VOLUME II
It is an European drama art movie divided in two parts. It was released on 25th December 2013 and is available in English language.Lars von Trier is the director and It has 6.9 /10 IMDB rating. Marie Cecillie Gade and Louise Vesth are the producers of the film. Stellan Skarsgard and Charlotte Gainsbourg are two main characters of the film. The plot tells us about Seligman ( a bachelor ) who finds Joe (a nymphomaniac ) lying all beaten up behind his apartment. He takes her to his home and on tea they discuss Joe's lustful life. Seligman has a hobby of reading about fly fishing. Consequently, After listening to Joe's stories he starts to connect them with some sport.
8.BELOW HER MOUTH
This film is a Canadian romantic movie that stars Tommie Amber Pirie, Mayko Nguyen, Elise Bauman, Melaine Leishman and Sebastian Pigot. The release date of movie was on September 10, 2016. April Mullen is the director and Melissa Coghlan is the producer of the film. The story is about a fashion editor named Jasmine who lives with her fiancé. One night while she is with her best friend, she meets Dallas. Dallas is quite confident in pursuing Jasmine, but she turns him down. Even after doing so, Jasmine is unable to remove his thought from her head .
We have tried to include # 11 best movies like 365 dni, If you want their download links request it in Comments.
9.BASIC INSTINCT
It is a thriller film which released on March 18, 1992. Paul Verhoeven is the Director, Alan Marshall is the producer along with writer Joe Eszterhas. The story of the film follows how Nick Curran played by Michael Doughlas is a police detective. Moreover, he is on a mission to find the murderer of a rich rockstar.
10.SECRETARY
A romantic drama movie with the director being Steven Shainberg and writer being Erin Cressida Wilson. Maggie Gyllenhal and James Spader played the two main characters in the film. The release date of Movie was January 11, 2002. Hence, The movie is about an Intense relationship between a prominent lawyer and his secretary .
11.BLUE IS THE WARMER COLOUR
Again, a romantic drama film with 7.7/10 rating on IMDB. Abdellatif Kechiche is direcor of "Blue is the Warmest Color". It was released on 25th October 2013 and is available in Spanish, French and English languages. The story is about how Adele ( a French teen ) forms a deep and intense connection with an elder art student named Lea, who one day met her in a lesbian club.
ALSO READ :-Carnival row Season 2