Another heartbreaking fact in deteriorating year 2020. 1960's singer and The Dirty Dozen actor, Trini Lopez ends his journey at 83. He had his last breathe at hospital in Rancho Mirage, California. Cause was confirmed as infection of coronavirus. 60 albums and more were launched by Trini. He was popular talk of the US. He gained a spot in International Latin Music Hall of Fame in 2003 and Las Vegas Walk of Stars in 2008.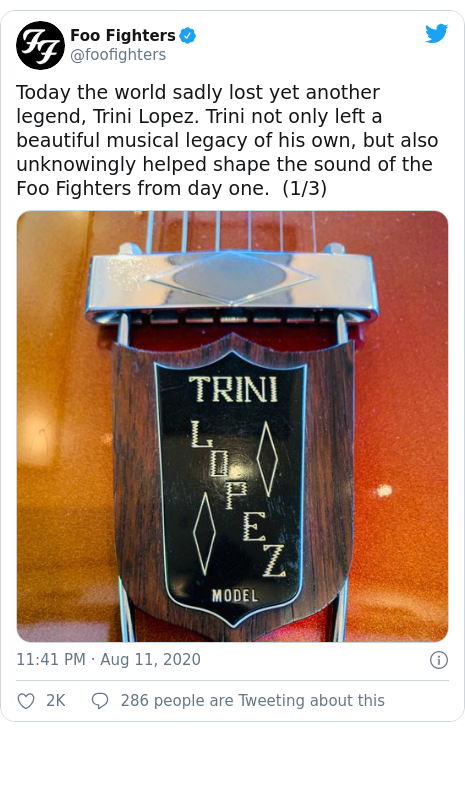 Legendary Journey Of Lopez.
Trindad was Born on 5 May 1937 at Dallas,Texas to Mexican parents. Trini Lopez started his first band at the age of 15. Lopez had to leave studies in high school due to economical constraints. His father was also a singer and an actor. He bought a guitar for young Lopez and taught him how to play it. And there started a legendary journey of Trini Lopez which ended on 11 August 2020.
In 1963, Lopez launched his debut live album-Trini Lopez at PJ's. This album consisted his biggest milestone "If I Had A Hammer". Became iconic by selling more than a million copies. Lopez was part of The Dirty Dozen. It was a film based on World War Two where a bunch of rogue soldiers were sent on a suicide mission.
Documentary on Lopez and his last works.
He recently completed his recording of a song named "If By Now,". This song was in view to be fundraiser for food bank for Covid-19 crisis. "And here he is dying of something he was trying to fight," said business partner and musician Joe Chavira.
"I insisted on keeping my name Lopez," He once said in a statement. "I'm proud to be a Lopez. I'm proud to be a Mexicano." A documentary on Lopez called "My Name is Lopez," was just completed by Ebersole and Hughes and will release soon in 2021. Guitar manufacturer Gibson once asked Lopez to design two models. They were named the Trini Lopez Standard and the Lopez Deluxe.
Also read: Disney World to reopen as coronavirus cases surge in Florida