Are you willing to keep a tab on your health while working? Do you want to check the time often and want something small and easy to carry? Do you want to look tech savvy or fashionable? Well never fear because smart watches are the answers to all your problems.
These little devices can show you a whole lot of metrics more than just telling you the time. Smartwatches are power-packed devices that can help you monitor Heart-rate, count steps, calories, receive calls, display notification, tasks reminder, and more. The pandemic situation has created a need for SpO2 (oxygen level) monitoring and this is functionality is now present in the latest devices and you should take a look at these devices.
Now there are more innovations every day to count. So which brand of smart watch should we be buying. While some might simply look while not being worth it at all, there might also be those that simply gives us a run for our money. There are also ones that are way beyond our budget. So which one should we be buying. This interesting guide will let you know about the best smart watch in India with a detailed review. Various range of prices are included in this article so scroll down to know which one among the top 10 watches in India is your best fit without burdening your wallet.
#1) Mi Smart Band 4
If you are looking for the best unisex smart watches then you are in luck because Mi Smart Band 4 always tops the chart because of its affordable price and the features that it comes up with. Besides having all sort of health measuring feature, you can also connect the Smartwatch with your phone and receive notifications for your text messages and calls. With its thin and slick design more people in India owns an Mi band than any other brands.
Features:
It comes with 5 ATM Waterproof options.
It has a long-lasting battery of 20 days.
You can get automatic heart rate monitoring.
This device has a full-touch display.
Includes Bluetooth 5.0 pairing
Buy Now Link Price -> It is available for Rs. 1,499.00 on Amazon.
#2) HONOR Band 5
Coming in various colors the HONOR band 5 is another sporty smart watch. Best for sleep monitoring the HONOR band 5 comes with scientific sleep monitoring that is unique and always keeps a tab. The introduction of a SpO2 monitor allows you to get complete access to your blood oxygen level monitoring. And of course just like any other smart watches you can get Bluetooth paring facilities.
Features:
It comes with an Immersive AMOLED Display.
You can get a SpO2 Monitor for Everyone.
It comes with Smart Music & Volume Controls.
Includes the Swim Stroke Recognition.
You can get 10 Distinct Fitness Modes.
Buy Now Link and Price -> It is available for Rs 2,199.00 on Amazon.
#3) Garmin Forerunner 245
When it comes to advanced features, the Garmin Forerunner 245 will surely get you overjoyed. It is one of the best smartwatches in India for men in style and features. This device includes running dynamics which measures everything, including your steps and also the ground time balance. Besides it is also known for its enhanced sound system and audio quality. However this watch is more on the expensive side. But personally I think that all the added features make the cost absolutely worth it.
Features:
It comes with advanced running dynamics.
You can get Safety and tracking features.
Has up to 7 days of battery life.
It comes with Garmin Coach training.
This device has BLUETOOTH technology.
Buy Now at Rs 36,990.00  29,990 Now
 #4) Samsung Galaxy Watch
Samsung is not only one of the top brands in India but also around the world. The Samsung Galaxy Watch is just another reason why it stays on top for a very long time. This product comes along with a 50-meter water resistance which is highly beneficial for swimming. Moreover, you can also get a 4G sim support that allows you to get easy connectivity.
Features:
4 stage Sleep mechanism to use.
It comes with stress monitoring.
This device has 50 m Water resistance.
You can get eSIM support with the use.
Buy Now Link and Price: It is available for Rs. 17,990.00 on Amazon.
#5) Fossil Gen 5 Carlyle
Fifth on the list is my personal favorite. The Fossil Gen 5 Carlyle is the best smartwatch online for complete fitness tracking and multiple watch faces. With 8 GB storage, it allows you to store music and also get a complete solution. To set up the device, you can get to use both Bluetooth technology and WiFi and synchronize it through your phone. Decent 10-day battery life makes it much better for you to use.
Features:
It comes with Voice control options.
You can get Heart Rate & Activity Tracking.
It comes with a  water-proof design 3ATM.
The product has Built-in GPS for distance tracking.
Powered by OS by Google.
Buy Now Link and Price: It is available for  22,995.00 on Amazon.
#6) Fastrack Reflex 2.0 Watches
One of the most affordable watches in India, fastrack reflex is India's own brand of successful smart watch. This product has a retro yet attractive band style which makes it a great choice. It might not have much heavy features compared to its more expensive counterparts; but it does have a great perfected calorie counter. Besides it also has one of the highest battery life.
Features:
Steps and calorie counter.
It features Whatsapp & SMS displays.
You can get complete Camera control.
Compatible with iOS 8.0
Buy Now link and Price: It is available for Rs 1,195.00 on Amazon.
#7) Noise ColorFit Pro 3 Smartwatch
There are many reasons why people like the Noise ColorFit Pro 3 Smart Watch. One of the major reasons is the option of having 14 sports modes. Another reason is that its extremely light and is both fashionable and sporty. The product comes along with a Truview display which provides a professional look as well.
Features:
It comes with 14 sports modes.
You can get a completely waterproof design.
The battery backup of this device is great.
The product includes a 1.5-inch touchscreen display.
Buy Now link and Price: It is available for Rs. 3,499.00 on Amazon.
#8) Apple Watch series 6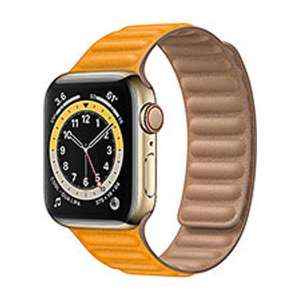 There are hundreds of smart watches out there but none of them as premium and as reputed as the apple watches. The most expensive watch on this list is one of the most polished and most secure watch to ever be made. The Series 6 now  offers an on-board SpO2 sensor, a super bright always-on display and fast charging.
Features:
Notifications on the wrist and read messages.
Fitness tracking (calories, exercise minutes, standing)
Workout tracking.
Heart rate monitoring.
Warn about abnormal heart rates and detect falls.
ECG readings (Series 4/5/6 only) and blood oxygen tracking (Series 6 only)
GPS tracking of workouts.
Buy nOW LINK AND Price: It is available for Rs 40,900 on Amazon.
#9) HUAWEI WATCH GT2E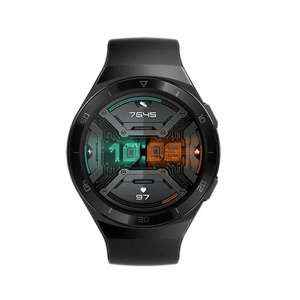 A watch that speaks of the future- that's what this watch is all about. A very tech savvy watch, it is a must buy for all explorers and backpackers. It offers a 1.39-inch AMOLED display as well as a very impressive battery life of two weeks on a single charge. It offers 24/7 continuous heart rate monitoring, supports resting heart rate, single heart rate, continuous heart rate, and more. Barometer, altimeter, Compass, and weather tracker are also included in this product.

BUY NOW AT FREE
Features:
It is extremely lightweight
5ATM water resistant feature
Huawei Sound X speaker technology
Has a lot of sensors including: Optical heart rate sensor
Ambient light sensor
Air pressure sensor
Capacitive sensor
#10)
Amazfit Bip U Smart Watch
The Amazfit Bip U is one of the most demanded smart watches on the market right today. The reason why most people like this device is mainly because of the Zepp App that it comes along with. This product has 50 watch faces which you can control through this application.
Features:
It comes with Blood-oxygen Level Measurement.
You can get 60+ Sports Modes.
It features PAI Health Assessment System.
The device includes Stress Monitoring.
You can get a Weather Forecast monitor.
Price: It is available for Rs. 3,999.00 on Amazon.
Also read " PUBG New State MOD apk and OBB file …."